Bios



Nancy Kapitanoff - Writer, Director, Producer
Nancy Kapitanoff served as Coordinating Producer on the PBS American Masters documentary, "Woody Allen: A Documentary." She is the co-producer, co-director and co-writer of the short film documentary, "Out of Infamy: Michi Nishiura Weglyn," which received a Special Jury Mention at the 2010 Tribeca Film Festival. She also wrote, produced and directed the short film documentary, "The Comet Model News" (http://www.cometmodelnews.com/), which won the Best Short Documentary Award at the 2006 Winnipeg International Film Festival.

Kapitanoff has been a Los Angeles-based freelance writer since 1991, writing about independent and foreign films for various publications including Tower Records' PULSE! Magazine, (http://www.nancykapitanoff.com) the Directors Guild of America's DGA MAGAZINE and the Writers Guild of America's WRITTEN BY magazine. Writing assignments for other publications have ranged from covering the basics of model railroading for a Web site featuring hobbies to writing regularly about art for the Los Angeles Times. Her short story, "Life After Death," received Honorable Mention in the July 2009 Very Short Fiction competition organized by the literary journal, Glimmer Train.

Kapitanoff began her career as an Editorial Assistant at KNBC-TV News in Los Angeles, followed by serving as Senior Researcher for Bruce Cohn Productions, which produced two HBO Documentary series, "Time Was..." and "Remember When." Her production company, NAK Films LLC, is currently developing a documentary on the Follow Your Heart Market & Café, a vegetarian, natural food market in Canoga Park, CA, which recently celebrated its 43th year in business; and the feature length Before Babe documentary film on early-20th century women golfers.

Kapitanoff has a Bachelor of Arts degree in Political Science from UCLA.




Megan Murphy - Producer


Megan Murphy is currently the Co-Producer of the new HBO comedy series, "Getting On." For over fifteen years, she has worked in various capacities of the film and television business, from writing and directing to editing and producing. She's served as the co-producer on the Golden Globe®-winning, Emmy®-nominated hit HBO comedy series "Curb Your Enthusiasm," where she is responsible for overseeing the entire post production process for this uniquely innovative show. She initially joined the crew as a post production supervisor on the first two seasons of the show before becoming co-producer. Her comedy credits range from a consulting position on Christopher Guest's "Family Tree" to "Woody Allen: A Documentary" to Comedy Central's "Key & Peele."

A native of Baltimore, Maryland, Murphy graduated from the University of Maryland, College Park in 1992 with a Bachelor of Arts degree in Radio, TV and Film. That same year, she was elected publicity chairman of the Women in Film & Video, Maryland chapter. As the youngest board member ever admitted, this proved to be a defining moment for her and a great foray into the world of entertainment.
In the Fall of 1993
,
Murphy found herself working as an assistant accountant on the hit feature film, "True Lies," which was filming locally in Washington D.C. What was initially a two-week stint led to a full time position on the crew, following the production to several other locations before arriving in Los Angeles. Her first position as an assistant editor was on Robert Guenette's documentary series, "Greatest People and Events of the 20
th
Century."

In 1999, Murphy became an associate producer on a one-hour special for LucasFilms, titled "From Star Wars to Star Wars: The Story of ILM," which aired on the Fox Network. From then on she worked in post production on such projects as Comedy Central's "The Sarah Silverman Programme," Sawin & Puddin's feature "I want someone to eat cheese with," Lifetime's "Lovespring," Triage Entertainment's "Exploring the Unknown," "Skeptic's," "Life & Death" and UPN's "The Road to Stardom with Missy Elliott."

During hiatus periods, Murphy writes, directs and produces projects for her own production company, "hey, hon! productions, Inc.," which she incorporated in 2002. "hey, hon!" has produced three short films. One of the shorts was awarded best screenplay at the Ed Wood Film Festival 2007 as well as Audience Choice Runner Up.



Ferrell Marshall - Narrator


Ferrell is a stage, film, commercial and voiceover artist.

This fall, Ferrell is featured in Paul Coates'
The End of It
directed by Nick DeGruccio at The Matrix Theatre in Los Angeles.
As a member of the award winning theatre company, The Production Company, she received a 2012 Scenie Award for "Best Performance By A Lead Actress" (Comedy-Drama/Intimate Theatre) and a nomination for "Best Lead Actress" by
http://www.broadwayworld.com/los-angeles/
for the critically acclaimed production of
The Beauty Queen of Leenane
.

Via TwoLips Studios, a full service home sound studio, she designs sound for theatrical and corporate productions, produces radio commercials and directs voiceover sessions.


Ferrell is a graduate of the American Academy of Dramatic Arts and the Joe Blasco School of Makeup.
Nena Hsu - Editor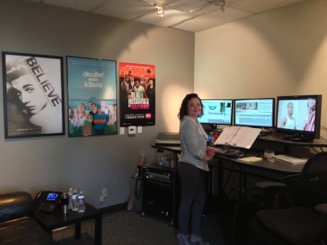 Nena Hsu in her editing bay. The posters represent some
of her most recent credits: the feature film
Justin Bieber's Believe
;
the feature film
Dealin' with Idiots
, written, directed and starring Jeff Garlin;
and Kevin Hart's comedy series,
Real Husbands of Hollywood
.